The Internet has favoured the entry of new market players and the development of new services (e.g. music streaming services, Video on Demand – VoD – platforms, etc.) providing access to a large quantity and variety of content online. Digital technologies also offer new opportunities to cultural heritage institutions (CHIs) willing to digitise and disseminate parts of their collections that would otherwise remain confined to their premises with limited access to the public.
In the online environment, players engaged in the distribution and dissemination of content (notably broadcasters, retransmission service providers, VoD platforms, but also CHIs as far as the access to the heritage is concerned) may face significant difficulties when trying to clear the rights for the online exploitation of protected works across the EU. Also, VoD platforms willing to enrich their catalogue with European AV works often face problems to acquire online rights. Finally, OoC works held in the collections of CHIs often remain unavailable online, due, in part, to significant difficulties in the clearance of rights.
MS cannot intervene by legislation in order to establish a uniform regime applicable to the licensing of rights (which have been harmonised at EU level) for cross-border transmissions of TV and radio programmes. Concerning the exercise of retransmission rights, national solutions may generate further fragmentation in the Digital Single Market. Only intervention at EU level can ensure legal certainty for all retransmission operators and rightholders. As regards the online availability of European AV works, MS' action may not be sufficient to improve the online availability of European (including non-national) AV works.
The general objective of EU intervention is to allow for wider online access to protected content by users across the EU, in particular in the following areas: transmissions and retransmissions of TV and radio programmes; European AV works and cultural heritage. EU action aims at removing the copyright-related obstacles and at creating the conditions allowing broadcasters, service providers and CHIs to offer wider online access to content across the EU.
The problems are all directly related to difficulties encountered with the clearance of rights: broadcasters when acquiring the rights for their online services available across borders; retransmissions services (different from but functioning like cable operators) for the clearance of rights for retransmissions of TV and radio programmes from other MS; VoD platforms in obtaining online rights of European AV works; CHIs clearing the rights for digitisation and dissemination of OoC works in their collections.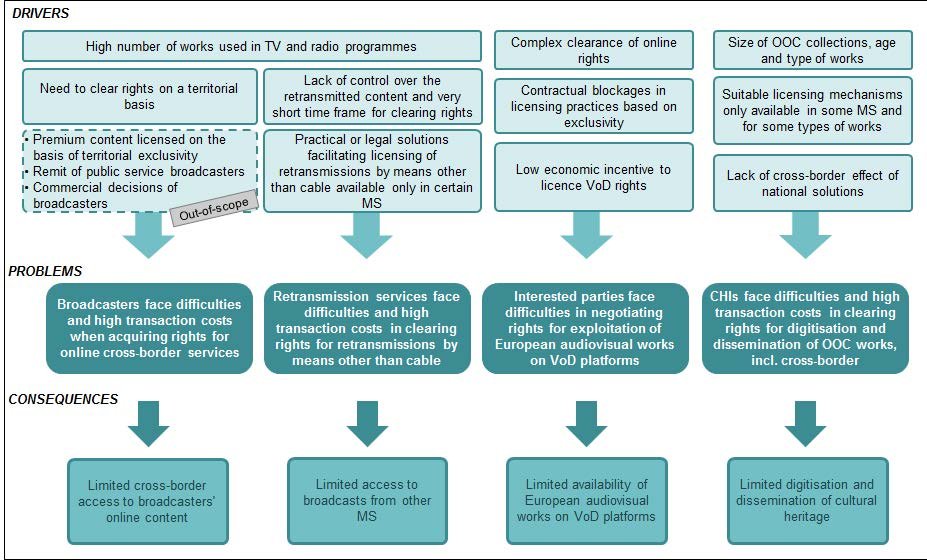 Beyond licensing issues, the limited availability of content online across borders is also the result of decisions taken by service providers (which may be related to commercial strategies, regulatory requirements, technological or financial constraints, etc.). As a result, there are instances where even if multi-territorial licences are granted by rightholders or even if agreements between rightholders and service providers do not include limitations on territorial exploitation, cross-border access remains a problem. This is however not a problem that can be addressed by copyright specific legislation.